Foods
Maple Sugar Carrot Cake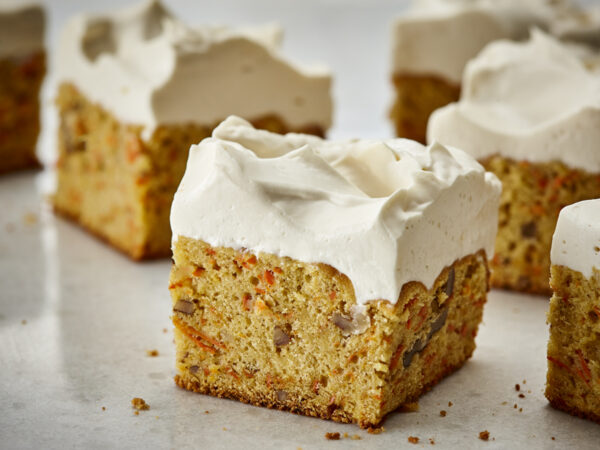 Instructions
Cake
Pre-heat oven to 180 °C (350 °F).
Butter a 20-cm (8-in) square pan and line with parchment paper. Set aside.
Sift flour with baking powder. Add the salt. Set aside.
In a bowl, using an electric mixer, beat the egg whites with half the maple sugar until stiff peaks form. Set aside.
In another bowl, using the same electric mixer, beat the egg yolks with the rest of the maple sugar until the mixture turns pale yellow. Gradually add the olive oil and beat well for one minute.
Add the grated carrots, cinnamon and nuts, and mix together with a spatula or wooden spoon.
Add the dry ingredients and egg whites, mixing them in gently.
Pour the mixture into the pan and bake in centre of oven for 50 to 60 minutes or until a toothpick inserted into the middle of the cake comes out dry. Let cool in the pan, set on a rack. Run the blade of a knife around the cake and remove from pan.
Icing
In a bowl, using an electric mixer, whip the 35% cream with the maple sugar until soft peaks form.
In another bowl, cream the mascarpone and incorporate the rum, if desired. Add the cream mixture and stir gently.
Top the cake with the maple-mascarpone icing.
Recipe inspired by Yoko Arimoto
The Quebec Maple Syrup Producers are not in any way responsible for the identification or presence of allergens in recipes or for the classification of any recipe as vegetarian or vegan.