Family Fun
Slow-Cooker Maple Taffy Ribs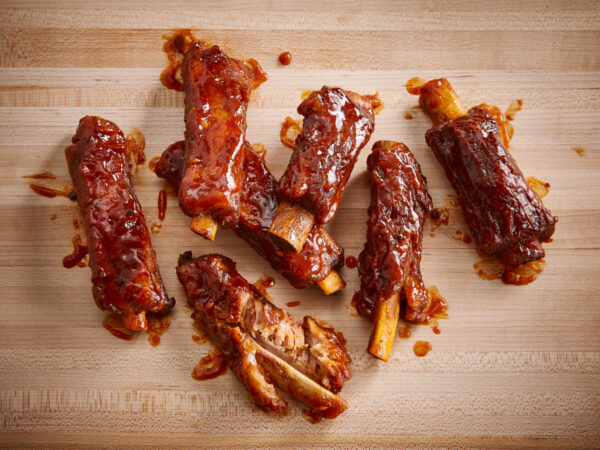 Instructions
Ribs
In a bowl, blend the maple syrup, chili powder, salt, pepper, and onion powder.
On a work surface, dust the ribs liberally with this dry marinade, and rub it well into both sides of the meat.
Transfer the ribs to the slow cooker, cover and cook on low heat for 6 hours. Stir halfway through cooking. Remove from slow cooker.
Maple Taffy Barbecue Sauce
In a small saucepan over medium heat, melt the butter and sauté the chili, onion, and garlic powders for 1 minute. Add the remaining ingredients. Bring to a boil, then simmer over low heat 5 minutes or until the sauce is syrupy. Season with salt and pepper.
Preheat oven to 200° C (400° F), with the rack in the centre position. Place aluminum foil directly onto the rack and place the ribs on it. Cook 4 – 5 minutes on each side, brushing with barbecue sauce. Serve with the remaining sauce.
* COOKING TIME FOR RIBS IN SLOW COOKER: 6 hours
* COOKING TIME FOR MAPLE TAFFY BARBECUE SAUCE: 10 minutes
To grill ribs on the barbecue instead of oven-baking: Preheat barbecue to medium and oil the grill. Place ribs directly on grill and cook 4 – 5 minutes on each side, brushing with barbecue sauce.
The Quebec Maple Syrup Producers are not in any way responsible for the identification or presence of allergens in recipes or for the classification of any recipe as vegetarian or vegan.